REFER A FRIEND AND BE REWARDED WITH $200
November 14, 2017 Patricia Carrasco Uncategorized
This $200 for referring a friend promotion is only valid when a client or someone else directly referred by you and signed up an agreement for any services or enrolled to any college or university through Pace Migration & Education Consultancy(except consultation).
Your friend must give us your full name or you may text, email, call.
You must reply at marketing@pacemigration.com.au with your bank account details for us to transfer $200.
Only the name given by the client will be honored even if he/she has more than 1 friend referring.
This promotion is valid from 01/11/2017 to 31/01/2018.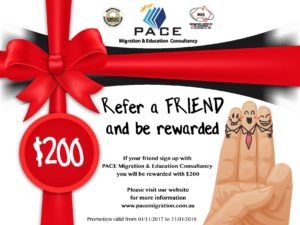 No Comments »
Leave a Reply